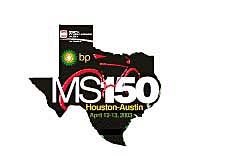 Sharon and I rode the MS150 this year - somewhat of a misnomer since its actually a 182 mile course. EY sponsored the team and we had about 20 riders in all. We had a great time and raised a lot of money for MS (over $10,000). The ride is a challenge, but the comaraderie and feeling of accomplishment at the finish are great. We are looking forward to next year...and recruiting riders for the team already!
The pictures below are all thumbnails - just click on any picture for a larger version (you may need to set your browser to autosize to the window - for IE, go to Tools/Internet Options/Advanced and check "Enable Automatic Image Resizing" under the Multimedia options).
| | |
| --- | --- |
| | The Tully start group - Panozzos, Giffords, David, Miguel |
| | The Katy start group |
| | The Start line in Houston - only 182 miles to go! |
| | Lots of open road |
| | We made it halfway! Our team had no flats or wrecks on Day 1 - excellent first day for all |
| | Beer and Oreos! |
| | Thanks Uncle Ernie (and you too Kay)! |
| | Damn it's early and dark...somebody remember to bring propane for the lantern next year... |
| | Almost the whole team on Day 2 - ready to ride the Bastrop Park! |
| | This was the "secret way out" to avoid the crowd exiting the fairgrounds in La Grange - oh well, that's part of the fun of it. |
| | Rest stop #8 - and all those people are in line for the Porta-can! |
| | The Finish line in Austin (Samsung). Where's Kirk with the beer truck?? |
Find out more about the MS150 here.