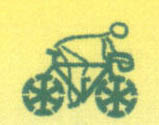 January 13, 2005

To: Team Guaranty Cyclists
From: Craig Gifford
The 2005 MS150 is 95 days away - time to get started! Who's been riding? Who needs to be riding (I admit it, I have got to get back on the bike and lose the 15lbs I've gained since July). Let's start getting out during the week and also get the weekend rides started. We all know Don only rides on days between 65-85 degrees, but for everybody else, clip in, gear up and let's go!
If you're new to this email list, Team Guaranty is a Temple-Inland sponsored employee and family cycling team focused primarily on the MS150 and Ride for the Roses. These events are about fun, team comraderie, physical achievement, and charity - yes, there are some pretty darn good cyclists that ride, but the events are really about the causes and having fun. If you haven't ridden the two-day MS150 tour before, you'll have to trust me that it will be one of the most enjoyable, fulfilling, perhaps even emotionally powerful events of your life - and did I mention FUN?
Lots of information below, but please call me with any questions. What do I need you to do immediately?
1. email me back to confirm you're in!
2. if you'd prefer a different size jersey from last year, let me know - once you confirm you're in, if you don't request otherwise I will order you the same as last year.
3. if you'd like one or both your jerseys to be sleeveless, let me know - if we have 25 sleeveless requests we can order a batch of those.
4. if you're interested in Team Guaranty arm warmers for $20, let me know - I may have enough budget for these, but if not we'll have to pay for them. again, need 25 to order
5. email or call me with new riders, or people you would like me to personally call to encourage to ride with us, and names of volunteers.
6. get started fundraising
I'll start emailing regularly with ride updates. One thing I'd ask though - please limit broadcast emails. Make sure not to hit "reply to all" - I will be happy to broadcast important information or ride queries for you, but since most of us will use work email for Team communications it's best if we don't have chat-style talk on the company email. Jason had talked about setting up a blog or chat feature on a website for us - if you see him, tell him you're interested in him doing that (remembering of course the limitations on personal email use in the office).
Go Team Guaranty!
Craig (craig.gifford@guarantygroup.com)
(512) 434-2515 office, (512) 288-6637 home

<http://giffordhome.tripod.com/Team%20Guaranty.htm>
http://www.ms150.org/ms150/

----------------------------------------------------------------------------------------------------------
What do you get by riding Team Guaranty? LOTS - two custom cycling jerseys, paid entry fee, all logistics, (semi) planned training rides, lots of ride advice experience and communication, parking/transportation arrangements, and team arrangements in LaGrange (tent, supplies, at least two mechanics and three bike stands - yes, cyclists like to buy "stuff"!, unlimited Gatorade, Gu, snacks and Beer!, Guaranty-only portacans).
What's new this year? Plenty - bigger tent in Lagrange to spread out a little (and accomodate new riders!), company-paid transportation to Houston, better planned (read, longer) sports massages, barbeque cookout at tent in Lagrange (I have big grill, just need volunteer cook!), better local bike shop support, perhaps local safety clinic. For volunteers, big news - they'll allow us to pre-setup in Lagrange on Thursday if we want...or could do it Friday on the way to Houston - no rush to get there so early on Saturday this year.
Volunteers - in short, we need 'em. In fact, the first person to bring me 4 volunteers (even partial day volunteers count) gets a commemorative MS150 logo 3 liter Camelbak ($100 value, not available in stores, etc). A few folks have already volunteered (thanks!), and I hope many of last year's volunteers will return in 2004 (please, please, please), but it is on our shoulders as riders to beg and plead with our friends, family and co-workers to get them to help us and the MS cause. You can assure them they will have fun and really enjoy the comraderie of the team. We had 8 volunteers last year and I'd like 15 this year.
New Members - We Want New Cyclists! as you know, last year we had 30 riders and raised $24,000. This year I'd like to have 50 riders and raise $40,000! As a challenge to each of you to recruit a new rider, you might be interested that Wells Fargo - with a first year team - already has 160 riders registered! Make sure to target those that are just "interested" and may not even be regular riders yet...and if they need encouragement, tell 'em that 2 years ago I didn't even buy a bike until early Feb to start training and by April I did just fine....they just need to get started with us now. They don't need a fancy "road bike" - three of our team members did it last year on "fat tire" hybrid bicycles!
Guaranty is paying full boat for all employees and family members. Non-company friends only need to pay registration, jerseys (one or two, their choice, at $50 ea) and transportation to Houston - about $150 total; I'm not really pushing for non-company members, but if you have close friends that are interested they are certainly welcome.
Also, I'd like to do lunch-room table display and Q&A sessions to recruit new volunteers before the lunch hall gets overtaken by Ronald McDonald - anyone interested in helping me with this?
Other improvements - I need help captaining the team - I know there were things I could have done better last year and I learned a lot, but I would really like help...if there were things you wish had been done differently, please step up and take 'em over. Things in particular that would be really helpful would be a logistics/volunteer coordinator, weekly ride planner (to make sure we have both weekend and mid-week rides organized), and web-site designer/communications manager (Jason, this is your calling). I promise, I'll give you lots of guidance and advice (lessons learned).
Registration - I'll do all the registration (info request to come). you will need to go online at www.ms150.org and set up online fundraising and get started fundraising ($300 commitment). It's simple and is by far the easiest way to raise funds...and I promise, $300 is very easy to get - send out 10 letters to family, friends, vendors and I you're there, guaranteed. Plus, once you've started raising funds it really increases your commitment to ride and you know you want to ride! For contributions from employees who qualify for company match, the great news is that NMSS will credit matching contribs upon receipt of the form - everyone got full credit last year for matches.
----------------------------------------------------------------------------------------------------------------
Please pass this website along to those others that may be interested in joining us.
thanks again,
Craig.
(512) 434-2515 office, (512) 288-6637 home
back to Team Guaranty page